Smile is the latest horror film hitting the big screen this fall. Written and Directed by Parker Finn, Smile introduces us to Dr. Rose Cotter (Sosie Bacon), a therapist about to have the worst day of her life. While treating patients at the hospital, Dr. Cotter meets Laura Weaver (Caitlin Stasey) a new intake patient. Laura has been through a traumatic event – seeing a professor at her college commit suicide in front of her. Now, Laura is seeing an entity that stares at her with a horrifying smile.
While trying to explain the situation, things take a turn. Laura slits her own throat while creepily smiling at Dr. Cotter, and her life is changed forever. Now, Rose is on a mission to convince herself and others that the smiling thing she now sees is real and not a hallucination. She needs to figure out how to save her life, as well as face her trauma.
SOSI BACON IS FANTASTIC IN SMILE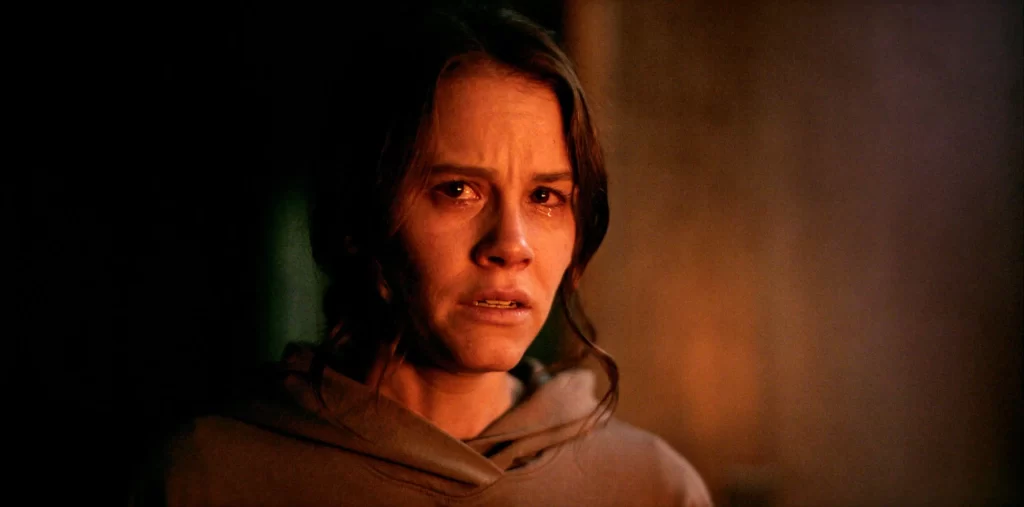 Sosi Bacon (As We See it) stars as Dr. Rose Cotter in Smile. She brings a level of acting to the horror film that you don't always get to see. The story leans into the dramatic side asking for the actress to be incredibly vulnerable, and a raw nerve the entire time. Bacon does this effortlessly.
Smile's story leans somewhat similar to the 2014 film It Follows. They both have an incredible score and sound design, while also having an entity that follows the victim and is passed along through death – one literal, the other metaphorically. However, when it comes to Smile you don't get a shot in the bum and the STI goes away. Instead, we get a story about mental health, depression, trauma, and suicide.
While I found Rose's journey compelling, I also found it wildly depressing. The majority of the story is told through the lens of trauma. I thought we would have a redemptive almost hopeful arc about facing your trauma, and no longer needing to smile through it. We do not. The moral of the story seems to be that no matter what you are not in control of your own mind. Your depression will fully consume you, and you might as well unalive yourself or those around you. It's the only way out.
JUMP SCARES AND LONG RUN TIME
Smile is full of great jump scares. I'm not one to complain that they're "cheap", when well done they can help build the tension. That's exactly what happens here. That being said, the majority of the great ones are in the trailer. So, if you haven't seen the trailer yet – don't.
That being said, the long runtime (coming in at just under 2 hours) diminishes a lot of the tension Act 1 builds effortlessly. Smile is based on a short film that was originally 11 minutes. There was zero need for that much story padding. Personally, I feel there is no reason for a horror film to pass the 90-minute mark because this is what always happens.
That being said, the monster reveal at the end – while it starts off hilarious and campy, ends horrifying. I also think Smile would make a GREAT Haunted House.
Smile hits theaters on Friday, September 30th.
For more on horror, check out the Fright-A-Thon Index, the 61-day Halloween Content Marathon!
KEEP READING: