If you are a fan comic book fan and love horror stories you will want to check out the latest series from Dark Horse Comics, Shock Shop. This series written by Cullen Bunn tells two different stories that are told by Desdeamona Nimue Moreau, the owner of a comic book/horror shop named the Shock Shop (she gives you a Tales From the Crypt, Crypt Keeper vibe). Shock Shop is available now at most local comic shops. Also, we would like to thank Dark Horse Comics for the copy for review.
Shock Shop #1
Shock Shop #1 gives us two stories for the price of one. The first story Something In the Woods, In the Dark, takes us deep into the woods where a group of friends is trying to help a couple save their marriage. Once the group setups camp and starts having a few drinks, things start to turn south. Tempers rise and soon an evil emerges from the woods that will catch everyone off guard.
The second story, Familiars introduces us to a father that moves into a new house. Well after all of his items are moved into the house he is overwhelmed and not sure where to start. Well, he falls asleep and wakes up to a big surprise and realizes he is not the only thing in the house. Things get even more interesting when his kids come to visit. Are these things in the house friendly or are they all in for a huge scare?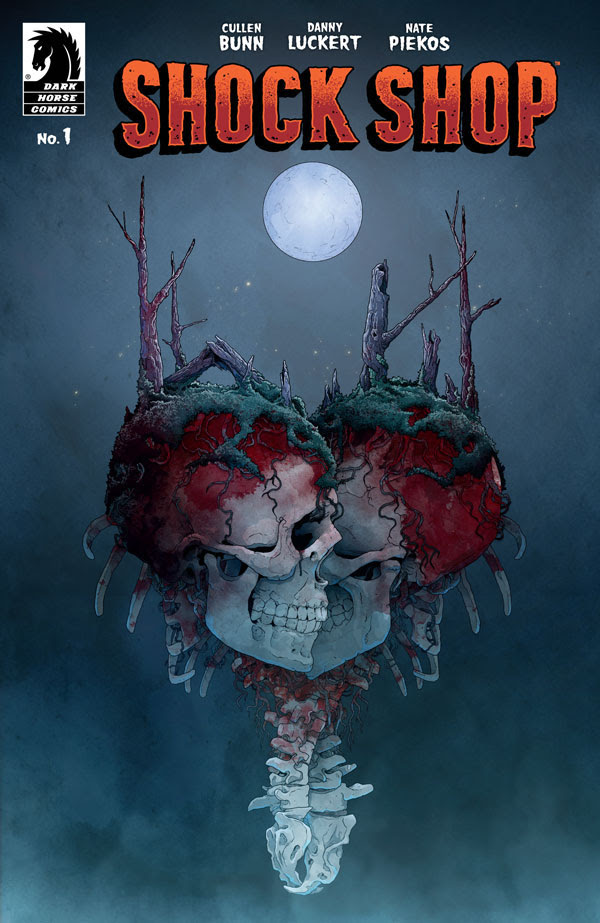 The Creative Team
Both short stories are written by Cullen Bunn. Bunn does a great job telling the stories and setting up the character development. What is really great about this is how deep and detailed the stories and characters get as you turn each page. The characters are bought to life with their emotions and feelings leaving you wanting more to see what happens next. These are not people with super powers these are people you can relate with.
Bunn is also reunited with a talented team of creators as well. Danny Luckert, Leila Leiz, and Nate Piekos. Luckert Something In the Woods illustrations brings the story to life by really focusing on the characters' facial expressions and the colors and backgrounds used to set the mood. Leiz (Familiars), takes a more simple fun approach. This story is brought together in a style that has a lot of energy and excitement that does not distract you from what is going on in each panel. But don't be fooled by the fun… the art takes a turn very quickly and is ready to tell a different side of the story.
The lettering done by Piekos keeps you on track throughout both stories. The text is simple and not overdone to set up different effects. The text flows well from panel to panel and gives the reader the option of reading it how they want.
My Thoughts
My only complaint about Shock Shop #1 is that I couldn't move on to issue #2 to start right away. I loved how you get two stories under one cover that just leaves you wanting more. I also want more from Desdeamona Nimue Moreau, I am intrigued by her shop and hope we get more of it in future issues. Also while reading these stories you get that classic horror TV feeling (for example Tales From the Crypt). Everything from the story to the art comes together perfectly and looks to be setting up an amazing series. If you are a fan of horror stories you will want to pick a copy up now at your local comic shop. I am very excited to see what the next issue brings us.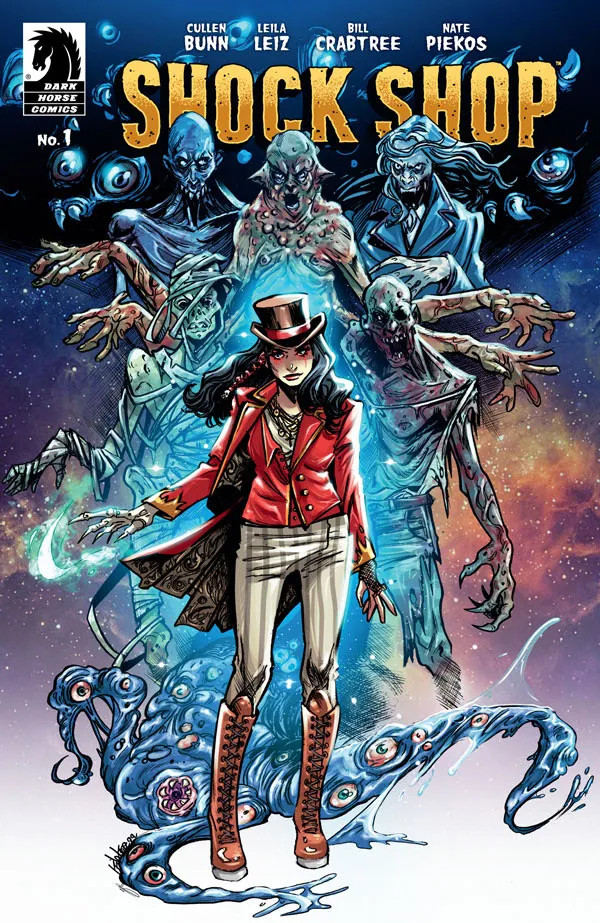 WE WANT TO HEAR FROM YOU
Are you excited about Shock Shop #1? Have you had a chance to read it yet, and if so what are your thoughts? Also, what other comic series are you looking forward to? That Hashtag Show wants to hear from you!
You can tell us your thoughts by leaving a comment below or hitting me up at starwarsnerd574. You can also join us at That Hashtag Show Facebook page to chat about all things comic-related. Also, make sure to stay up to date on all the comic news and interviews by following us at ThatHashtagShow.com. More importantly, be safe, I can't wait to see you all at some conventions this year!
SEE ALSO: